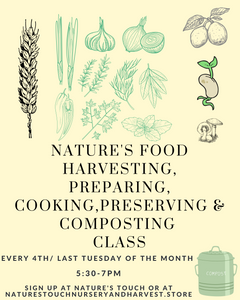 Sunday Nature's Food Cooking class:
This class will start out with the Introduction to understanding seasons, where we are in the calendar, where the soil temperatures are and what to prepare for with food.  
This class will have a basics on tools needed to making seasonal food more convenient but are not necessary.  All we need is our eyes, hands, nose and mouth to create wholesome healthy food from our own soil.
There will be a basic discussion on mushrooms with a different type shared every month.
This class will take the current harvest and make it into food and health. 
This is a growing/cooking and survivalist class.  What does it really mean to fill my pantry?  
Storage food created from your own soil or of the soil from your neighbors.  We will also show the importance of recycling and composting and how this all ties into how we can all create healthy soils, by what we buy and consume.  Healthy Soil gives us Healthy life. 
Seed collection,  saving and storage will also be shared.